This Section is for all my Classmates who are also my friends and hence deserve special treatment.

I know I haven't included a lot of people here that could be because I haven't made any opinion about them or I have forgotten them. I have taken a few liberties here and the things written here should be taken in a light hearted way. Those who have their pictures scanned please mail them to me at sidbha@rediffmail.com or give your picture to me and I'll somehow get it scanned for you. Don't forget to see our class picnic pictures.
They are in alphabetical order...

Ankur:
Code Name: None
About Him: Has a very good fashion sense. In fact one our teachers even advised him to try modelling. Really knows how to present himself. We both come from same college 'St Francis'
Message for Ankur: Baat maan modeling try kar.

Anurag Khare:
Code Name: None
About Him: A studious person, intelligent and hard working. But knows when and how to have fun.
Message for Anurag: Anurag Khare!! Khaare khaare gir pade


Kumud:
Code Name: Lambu
About Him: The highest monument around.

Stands out from the crowd because of his height. Seems to be a jolly good person who takes things easy.
Message for Kumud: Bachpan mai shayad tumne incrimin zyaada pe li thi.

Mousami:
Code Name: RadioCity, Tubelight
About Her: She got her nickname on our class picnic, 'cause she knows tons & tons of songs and sings well too. Has a good sense of humour. Although intelligent she is sometimes called tubelight because she gets the hang of things a bit late than others. Knows how to play pranks and crack jokes.
Message for Mousami: Do you know we have the same favourite song *Sagar Jaisi Aakhon wali*. Remember tubelight jalane mai der hoti hai par jub jalti hai tau bulb se zyaada light deti hai !!


Prerna:
Code Name: None
About Her: She got the longest lock of hair around. Is studious and extremely well mannered.
Message for Prerna: Nothing to say, Really!!


Pulkit:
Code Name: PD or Pullu, Got a new nick 'Tillu' from Mousami
About Him: The first thing you notice when you have a one to one talk to PD is that you are hardly getting an opportunity to talk... This guy talks a minute a mile on a subject of your choice. Probably the most teased character in college. Jack of most trades and also master of some. Believe me you'll never feel bored when he is around.
Message for Pulkit: Meri baat yaad rakhna "kisi din koi ladki tere ko pakad ke le jayegi aur tu kuch nahi kar payega chikne".

One more thing "Yaar baton ka bura mat mana kar".
Raj:
Code Name: Roll No.1, Raja Babu
About Him: "A purrrrfect Gentleman" that's all the description I need to give you about him. Never have I heard a bad word from him nor do I think I'll ever. Soft-spoken and has a royal touch to his personality. What can I say to him... but I don't think you need to change yourself even a wee-bit. Remain the way you are!! His site is at http://rgaonline.tripod.com
Message for Raj: Something I always ask him "Raj.....Simran kaisi hai?" ...lol. You know what I realized you are not as seedha sadha as you seem to be.
Here is a special page for Raj...Click Here.


Rolly:
Code Name: None (or should I say Rolly Polly- Lol, Sorry couldn't resist saying that)
About Her: She is very much an unknown person to me because I really haven't seen/heard her talk. Quietly goes on doing her own thing... "Deen Duniya se bekhabar inka hai apna ek ghar"


Message for Rolly: Nothing to say, Really!!

Sapan:
Code Name: England ka Peter
About Him: Interesting character...always thirsty for knowledge. Has probably told me about a 100 times that I should call myself "Siddhartha Internet Bhatia" or "Siddhartha CD Bhatia" i.e. keep my middle name as Internet or CD... Well I see no reason for it and sorry to say Sapan you are the only one calling me like that... and you probably spend more time on computers than I do... Has his own website at http://sapanbajpai.8m.com .
Message for Sapan: Kal raat ko online kya kar rahe the?


Sambodhi:
Code Name: None (Heard some people call her Uncle Sam which I think was strange)
About Her: Soft spoken and Stylish. I have (and others too) noticed her silently looking out of the class window quite a few times now and I wonder what she was watching. As you can see from this picture, she is animal loving.
Message for Sambodhi: Khidki ke bahar kya hai?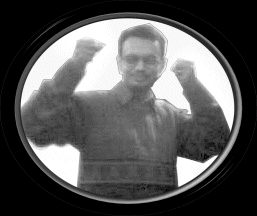 Sameer:
Code Name: SAM
About Him: What I like about Sameer is that he is always smiling and laughing. Looks to me that in the studies department he is a bit like me...'cause does well sometimes at other times Ram Bharose.

Really friendly with everyone.
Message for Sameer: Bhaichara Kayam Rahe.

Bakri ko sambhal kar rakhna.

Saneel:
Code Name: Mr. Hacker
About Him: Want to get updated with the latest news from the computing world...Just contact him. Or if for some reason you want to hack/crack some software...just contact him. A jolly good person who always has a smile on his face.
Message for Saneel: Tujhse bahut darta hun... Kahin meri website na hack kar lena...

Satyavan:
Code Name: Shaktiman or Sattu
About Him: What I have noticed about him that he doesn't want to be center of attraction. Or is it otherwise? Tends to be really unpredictable... Quietly works in the background... and at other times he is in your face. Sometime tries to tease me but I don't mind. Every now and then has a habit of reminding me that I am ignoring him when I am not. Maybe doesn't like the company of some people.
Message for Satyavan: Bura mat mana kar!! MAI TUJHE IGNORE NAHI KAR RAHA!!
Saurabh (Srivastava):
Code Name: None
About Him: Quite an entertaining person. Is really good in mimicking people. Likes to imitate Satyavan and Kishore a lot... Knows tons of jokes.
Message for Saurabh: "Ek rupai ka paket, aur dau rupai ka pakat, lagate he Aram"

Wow you must be a really keen observer... you do that so well !!

Saurabh (Kishore):
Code Name: CR or (CRO)
About Him: A really cool person... Is the Class Representative and hence code named "CR". Has his very own unique way of speaking which gets imitated by a lot of people in class including me.
Message For Kishore: "Kishore Sun Zara", Tune aaj shave banayi? Ears se shaving cream saaf kar li?

Seemant:
Code Name: Cool Seemu
About Him: Sedha Sadha Person... Talks really softly... and I am sure is a really nice human being. If he is not sitting somewhere very close to me its difficult to locate him in class.
Message for Seemant: I think you are a really nice person.
Sharad:
Code Name: Romeo (I didn't give him this name but just writing what others call him)
About Him: Well here is an interesting character to write about. Likes to be the center of attraction or should I say is a center of attraction at times. What I have noticed about him is that he likes being involved in all types of activities inside and outside the college. Likes to lead (maybe not always in right direction).
Message for Sharad: Kya haal chal hai? Yaar log mujhse yeh kyon kehte hain ki tumpe bharosa na karun!!
Shruti:
Code Name: Maaji
About Her: I don't know why but I have always seen her running around the college from one place to another. Very talkitive. A few days back when I was giving a treat for a prize that I had won... she said she needed a special treat because she was my fathers friends daughter. Wah !! Wah !! Kya reasoning hai !!

One more thing that I have observed... she has an habit of setting her hair a lot of times...
Message for Shruti: Cold Drink Hajam ho gayi?

Sonal:
Code Name: BBC *the slogan goes...."Broadcasting 24 hours a day, 7 days a week...This is BBC..."*

or AT&T - Always talking and talking.
About Her: She talks a minute a mile, and is probably the one who does most of the talking in her friend circle (Which I know is quite large). When she doesn't agree with someone, she'll probably make a pose (put her hands on her sides and look skywards), which is typical of her and is quite funny.
Message for Sonal: Bola kam karo, energy waste hoti hai !! Kahin accident ke baad tumhara dimaag past mai (i.e. bachpan mai tau nahi chala gaya?) Just asking politely!! Don't mind.


Tanmay:
Code Name: None
About Him: If you don't know about him in my class then you probably live in a jungle... Amazing character can leave you with a stomach ache with his wisecracks. Really friendly and never short of an opinion about anyone. I guess the most popular person in my class. Can leave you in embarrassing situation if you become his target sometime. Lives life to its fullest!! Despite all this I know he is ready to prove himself when opportunity comes his way.
Message for Tanmay: Control Yaar!! Thoda Sa Control !!


Vijay Bhan:
Code Name: Raja Vijay Bhan
About Him: If it wasn't for him I would have probably not passed my electrical exam ... he taught me and you know what? I got more marks than him... lol. All I can say is Thank You Vijay!! Sometimes feels that I am ignoring him but I don't think I can ever do that!!
Message for Vijay Bhan: Thank You!!
Romesh:
Code Name: Technical Advisor
About Him: I am afraid this guy might suck my brain out. Talks Hi-Fi and can irritate people at will. I think this guy might one day become a great scientist or he might end up getting treated for his mental health.
Message for Romesh: Yaar mera dimaag baksh de waise hi bahut kam hai !! (This is with reference to feedback given to me by Romesh...I didn't really mean anything against you when I wrote this... Other people also objected to what I wrote about them... does that mean I am there enemy too? I think only you took it to your heart. You are a unique person on your own and I have nothing against you.)
---
I know I have missed quite a few people here so I am really sorry to them... Promise to add them as soon as I remember. Sorry!! I am less on brain so I tend to forget.

---