Well this a special page for all my friends... I am sure no-one will mind that I have taken certain liberties in writing about them!!

How can I start my friends page without introducing you to Chats and Gaggu?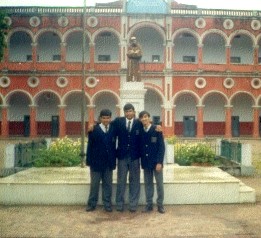 Siddhartha Chatterjee:
Code Name: Chats
About Him: Well he has been my friend since as long as I can remember. We met on our first day at St. Francis' College way back in class 3. He remembers that at that time as little kids we played telephone-telephone...I am not so sure about it!!
Not only do we share our first name but we tend to think on lot of things at the same frequency. This guy has a real scientific temperament. Loves and tries hard to get back at me when I have just played a prank or said something to him. :p but I can safely say..."Chats you need to improve on it...right now you are nowhere near me."
Message for Chats: Yaar mujhse chupaya mat kar!!

Abhishek Garg:
Code Name: Gaggu
About Him: Abhishek joined me and Chats a bit late but after that you would have probably always seen three of us together in school. One thing I must say, "Abhishek always talks to us with his head down" Why? Because he is the tallest. Simple!!

Lately Abhishek and Chats have started ganging up against me. Lately he has become really busy or so he tries to be... When he is in his college he hardly has time to email me and when he is at his home he is busy in his family business.
Message for Abhishek: Thoda sa time nikal liya kar!!

Amit:
Code Name: Baniya or 007 (because 7 is his roll no.)
About Him: My Guru, he is the one who taught me to drive a car. He is the oldest friend of mine. I know him even before I met chats. I was with him until class 2 then it was a surprise when we two landed up together in the same class in B.Tech. The first time I saw in my Engg. class our expression were like the Hindi hero meets his brother who was lost in a Kumbh Mela. God help you if you get into war of words with him!
Message for Amit: Yaar mera computer phir kharab ho gaya hai... Tere paas time ho tau theek karane chalte hain. :p



Ankur:
Code Name: Pundit
About Him: Ankur or the bhrast pundit... Iska dharam bahut pehle bhrast ho chuka hai. He is the one who probably gets his leg pulled the most between Amit, Depu and Me. But to tell you something I think he has a real good nature. I have never seen him doing wrong on someone else. He has got 2 passions one is his Hero Honda Passion Motorcycle the other is a secret between him and me so I wont tell you. Due to certain reason he was really busy in the recent past and used to visit baraelly a lot but now he is free and has his eyes wide open.


Message for Ankur: Pundit teri dono passions kaisi hain?

Vivek:
Code Name: Lunch Box

or "the maker of saini herbal hair oil"
About Him: He is the one with whom you would have seen me hanging out with the most in our 1st year of Engg. Carries the biggest lunch box (hence the name) because he is the most hungry despite the fact he is probably the thinnest creature around (if you can neglect me). Although I think he never got to eat his lunch properly there are lot of other contenders for it. Poor Him!!! His favourite channel Discovery.
Message for Vivek: Meri Mp3 list mai aur songs add ho gaye!! .......Asta lavista Baby!!

Deeptiman:
Code Name: Depu or Hapshi or Machli Khane Wala
About Him: Well I got know him while hanging out with Amit and Ankur. Has fun when he is among us but I am sure he works hard on his studies in the background. Gets teased a lot about one particular girl who is really interested in him but for some unfortunate reason he is not.
Message for Deeptiman: Mudke dekh WOH ja rahi hai.

Anuj:
Code Name: Topper
About Him: When I first met this guy he used be a 'sedha sadha' person who was really into studies... but company of Amit has made him 'bigada hua'. Can easily give you a hard time if you start arguing with him... which was not the case earlier. I guess he likes to top in everything 'cause he is the topper!!


Message for Anuj: Amit ki company mai kam raha karo.
---
I know I have missed quite a few people here so I am really sorry to them... Promise to add them as soon as I remember. Sorry!! I am less on brain so I tend to forget.

---
Classmates Section